Nationally and State Accredited Agency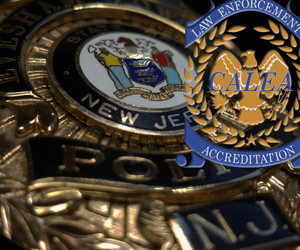 ETPD is proud to announce that we are considered to be in the Top 1% of police departments in the country. We have received this prestigious distinction due to our agency's unwavering commitment to be a nationally accredited police department through the Commission on Accreditation of Law Enforcement Agencies (CALEA). CALEA is an agency that monitors the standards of public safety across the country, ranked the department in the top 1 percent of the country's police departments. This is a tremendous accomplishment by our entire police department. Being reaccredited by CALEA reaffirms the professionalism and standard of excellence throughout our entire organization. ETPD has been nationally accredited since 2011 and is proud of being recognized as only 1 percent of the country's police departments to have achieved accreditation, and ETPD is one of only eight New Jersey municipal law enforcement agencies to be recognized. ETPD is also proud to be also accredited through the New Jersey State Chiefs Association. NJSACOP accreditation builds on national CALEA accreditation by requiring operationally effective policies and procedures that are focused specifically on New Jersey based law and practice. ETPD is one of only one of two municipal law enforcement agencies in New Jersey to have dual state and national accreditation.
 Please take some time to read the assessor reports on their independent reviews of our agency policies, procedures, proofs of compliance, inspections and interviews with our staff, elected officials and the community we serve.